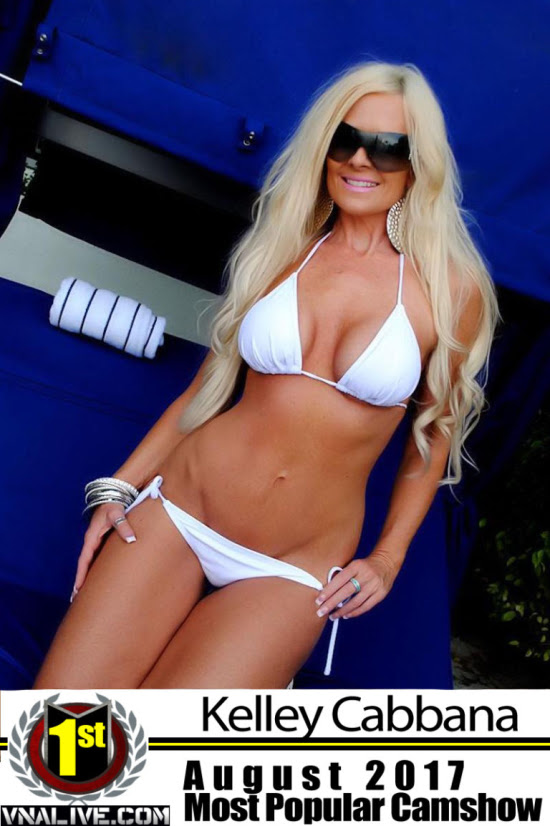 The sexy streamer once again tops VNALive.com with the Most Popular Cam Show of the Month!
 Cammodel
Kelley Cabbana
 (
https://kelleycabbana.com
) has signed up with OnlyFans.com for a new way to connect with her admirers. The busty beauty has been on a hot streak over the summer and has seen her fan base rapidly grow. As more people are getting turned on to her,
Kelley
is broadening her reach by creating an OnlyFans profile. In addition to interacting with her during her live webcam shows, people can now reach out to the blonde bombshell at any time for exclusive sexy candid videos and images.
"As an exhibitionist, I am always doing something naughty," said Kelley. "At the beach, a party, a balcony, just about anywhere. With OnlyFans I can share these sexy clips and pics in a new way. Followers can expect a lot of spontaneity and nudity!"
Kelley's
growing popularity can be evidenced with the announcement that for the second time this year she has been voted VNALive.com's Most Popular Cam Show of the Month! For the month of August, VNA members have selected
Kelley
as their cammodel of choice.
Kelley
previously took the title for the month of May.
"It's an honor to have won twice this year,"
said Kelley. More information on Kelley's August win can be found on
https://www.vettenationlive.com/kelley-cabbana-voted-1-august-2017/
, while her VNA profile and schedule of webcam shows can be found here:
http://www.vettenationlive.com/author/kelleycabbana
. Members of
Kelley's
personal website
KelleyCabbana.com
also get to see all of her VNA scheduled cam shows for free.
Join up with hardcore hottie Kelley Cabbana! Via her webcam shows or her new OnlyFans profile, Kelley wants to connect with you.
…