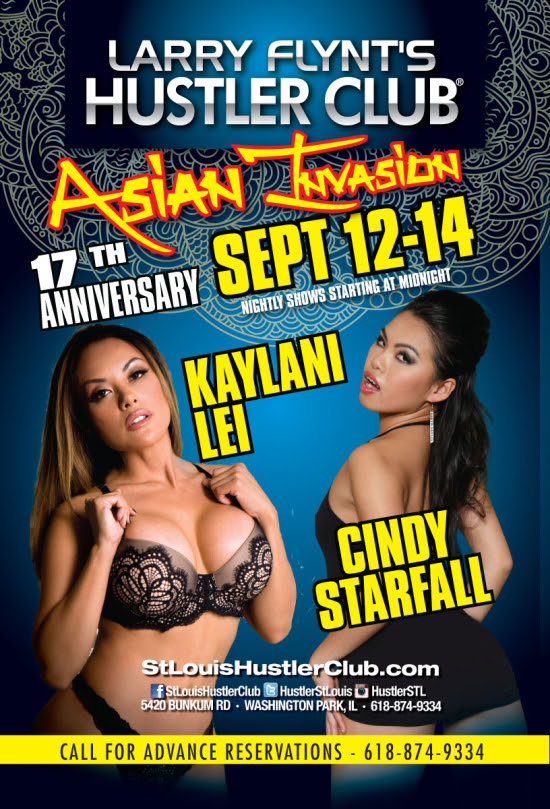 The superstar duo will seduce fans with scorching hot stage shows this weekend.
Adult entertainment superstars Cindy Starfall (https://cindystarfall.net/) and Kaylani Lei will co-headline the 17th Anniversary of Larry Flynt's Hustler Club in Washington Park, Illinois on September 12th, 13th & 14th. For three nights, the club will celebrate its anniversary with an "Asian Invasion" spotlighting acclaimed Feature Dancers Cindy and Kaylani. A highly in-demand Feature, Cindy will stun and captivate clubgoers with her sexy outfits and striptease shows. Attendees will be in for an erotic adventure as she and Kaylani make the 17th anniversary a party to remember.
"I'm honored to be part of the club's anniversary festivities," said Cindy. "I can't wait to put on some of my sexiest shows for all the fans that come to the Hustler Club. Kaylani and I plan on making it three unforgettable nights."
After each show, fans can continue having fun with Cindy at her special meet and greets. Along with autographs and selfies, club attendees will have the chance to buy Cindy's 8×10 photos and hot, hardcore DVDs. Those who want an experience that can't be found on DVD can purchase a VIP lapdance from Cindy herself!
The St. Louis Larry Flynt's Hustler Club is located at 5420 Bunkum Road in Washington Park, Illinois. Additional information about the club and the 17th Anniversary celebration set of shows can be found on the venue's official website: https://StLouisHustlerClub.com.
For table reservations at this special event, call the club at (618) 874-9334.
Fans who want to show off their Cindy support can order her new T-shirt. The "Hot AF" shirt features Cindy herself hot and ready for action in red lingerie and high heels. The limited-edition shirt is available in several sizes and can be purchased here: https://cindystarfall.net/product/hot-af-men-tee/.
September 12th, 13th, and 14th, Cindy Starfall and Kaylani Lei are coming to Larry Flynt's Hustler Club in Washington Park! Be there for the Asian Invasion!
To book
 Cindy Starfall 
for a feature dance appearance, please visit:
AListFeatures.com