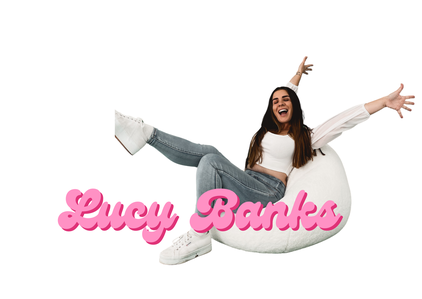 "Laptop Lifestyle" and no shame is how the mum of two now has 3 properties, including a luxury home just for her kiddos.
From banker and adult content influencer – to an emerging real estate mogul. The mom of two can "buy her own flowers"/ real estate post-divorce.
After exiting her bank job due to unethical behavior she witnessed, Lucy took part in an enterprising venture in the entertainment industry that shook the world over the last three years. Now she has reinvested her funds earned into real estate around the country, telling other divorced single mothers how to get it done without shame.
By acquiring three properties, Lucy has found a way to make her dreams of giving her family stability come true. The mother of two has just purchased a dream home for her family, less than 15 months of initially entering the property market.
While facing divorce a few years prior, Lucy made the decision to walk away from everything except her children. The emerging real estate mogul states, "I didn't want to fight my ex-husband in court for my share of our assets, so I didn't. I walked away with nothing. I became obsessed with saving a deposit and showing the world that I could my a house for my kids and I on my own," She believes that with the right resources, guidance, and examples of others who got the job done, any woman can achieve success.
Explaining the sacrifice she made, Lucy makes it clear that it can be done by focusing on the end result. Lucy elaborates, "I bought my first house end of 2021. I renovated it and established a good amount of equity. In September 2022, I started building an investment property. I didn't use the equity in my first property. I actually saved a whole new deposit."
As a current investor in the housing market, Lucy is also an advocate for the "laptop lifestyle". The real estate investor has a number of online businesses that she runs from home. Noting that having multiple income sources is the best route to earning absolute freedom. Some side hustles created by her include; selling visual content, a dropshipping website, talking to people for a charge, a membership club, merchandise, and affiliate opportunities.
Lucy plans to become of hope to other single mothers, showing that they too can earn real estate investing money with proven "work from anywhere" platforms. "Choose the right avenue for yourself. We are in a time where you can choose how you earn by passion, comfort, skill, and ambitions," advises Lucy.
Lucy states that she wanted to provide a stable lifestyle and income for her family, but without sacrificing being present for her children. "I've faced a lot of judgement, but at the end of the day – I got it done for my kids. I built this little empire for us."
"I bought my absolute dream home for my kids and I. We'll never move again, we'll stay there forever. It is massive and has room for all our family and friends there. Even some chickens! I'm really proud to have done this and shown my kids that mom will always make it work for them." Confirms the entrepreneur.
For more information about Lucy Banks and her success in the real estate industry, please contact Lucy directly.
ABOUT LUCY BANKS
Lucy Banks, a rising independent content creator based in Perth, Australia, never saw herself as an online entertainer catering to the deepest desires of strangers, but in 2019, after years of a day-in, day-out existence in an unfulfilling marriage and middling job in the banking industry, she decided to ditch both and take the unusual step of signing up as a model on OnlyFans.
Less than three years later, the brunette beauty with an infectious smile and adventurous spirit has achieved staggering success on the adult social platform. Thanks to her tireless work ethic and motivation, she can provide a more comfortable life for her and her two young children.
"The pandemic ushered in a virtual world that more of us are living in every day, whether out of necessity, entertainment, or the thrill of meeting new people and creating an exciting online experience. For me, it's about freedom: having the time to be there for my family and being able to buy a home, necessities, and fun stuff for my kids without worrying about how much money is in the bank. There are pros and cons to every career, but at this point in my life, this is what's most important to me… and I'm loving every minute of it!"
For more information about Lucy Banks, find and follow her at:
lucy@lucybanks.com.au
LucyBanks.com.au
Instagram.com/itsnotlucybanks
TikTok.com/@littleaussiemama