GoAskAlex is celebrating the sexiest time of the year with the announcement of Valentine's Day bundles, featuring exclusive photos, videos and even some special treats to sweeten the deal!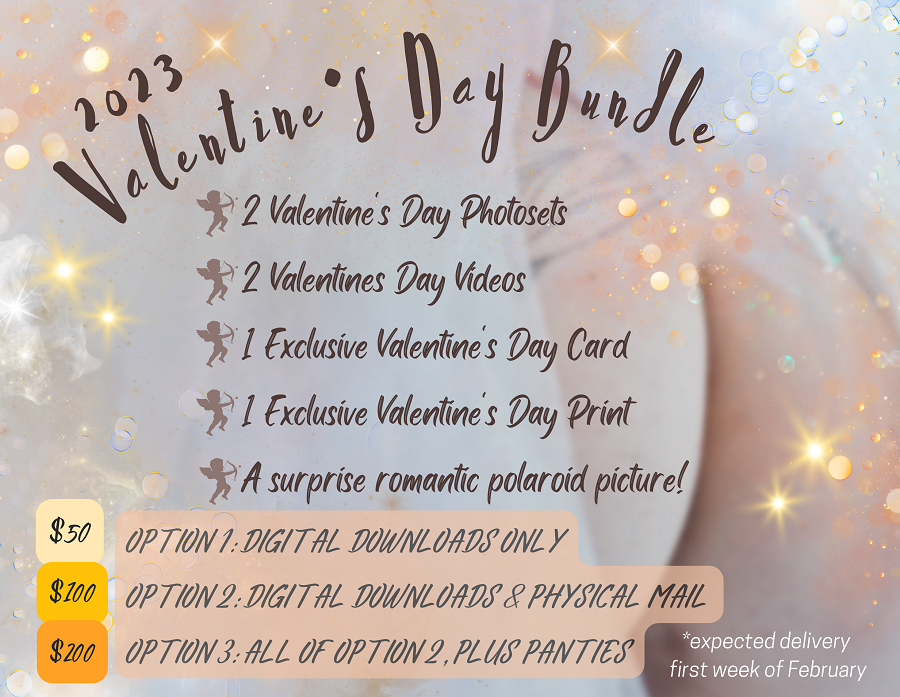 "I am so excited to unveil my special holiday bundles for fans who want a little something special this season," says Alex of the limited-time offer. "Only four bundles are currently available, so act now while supplies last!"
The bundle, available for fans to purchase through the star's
OnlyFans
page, includes all-original content, including themed photo sets, two themed videos, a Valentine's Day card, themed one-of-a-kind print and a surprise romantic-themed Polaroid photo, broken down into tiers:
★ Tier One ($50):  digital content only
★ Tier Two ($100): digital and physical content
★ Tier Three ($200 – very limited quantities available): digital and physical content, plus a pair of
      Alex's own panties (worn or clean)
Alex will begin Tier Two/Tier Three shipping immediately to accommodate a timely delivery date within the first week of February, with digital content requiring a valid email address – "and please let me know if you are located internationally outside of Canada, as some customers in Europe and Australia may be subject to additional shipping costs."
ABOUT GOASKALEX:
GoAskAlex is an adult model, onscreen performer and sex educator with the distinction of being the industry's first-ever ostomate since receiving a life-changing surgery in 2019, diverting her small intestine out through her abdomen, necessitating the need to wear a permanent medical device.
The auburn-haired British Columbia, Canada native – who launched her adult career in 2014 as a webcam model and online companion – has since taken the opportunity to use her high-profile platform to advocate for disabled and underrepresented bodies in adult media.
GoAskAlex currently sits atop the 1% of content creators on
OnlyFans
, is a top attraction over at
SuicideGirls.com
and
ManyVids
as well, selling her original video clips for her many thousands of fans on the popular platforms and amassing nearly 100,000 followers to her ever-growing
TikTok
page.
She has since been featured in XBIZ Magazine, posing for the cover as the trade publication's first-ever model with an ostomy, as well as Hustler E-Magazine to promote her inspiring Disabled Sex Workers Calendar. Alex also won 2020's XBIZ Cam Award for Best Inked Model and 2021's XBIZ Best Cam Model and has had her writing published by well-known mainstream publications such as
VICE
.
GoAskAlex occupies the traditional, ancestral and unceded territory of the Squamish Nation, Tsleil-Waututh Nation and Musqueam Nation. To learn more, visit
GoAskAlexOnline.com
and follow her on
Twitter
and
Instagram
.